abco automation knows Garment on Hanger distribution
Garment on Hanger
distribution is one of the strengths of
abco automation
. Our sister company,
ABCO Systems
, has been around the apparel industry for a long time; we were there for Liz Claiborne and Ralph Lauren when they launched their very first clothing lines.
And with abco automation, we  have 12+ years of exposure and know-how to European distribution processes and technologies – concepts that most American integrators and operations professionals have never seen. For that reason, we beat our counterparts in the ideas we bring to the table.  We can take your Garment on Hanger Distribution to the next level.  We can incorporate your GOH storage and retrieval seamlessly into an automated warehouse environment that will reward you with a great ROI.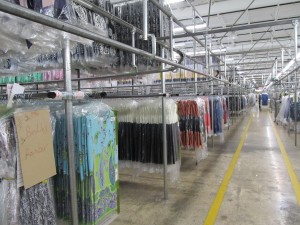 At the same time, we are not a manufacturer beholden to sell a particular brand.  That means that we have the ability to shop available suppliers for the lowest prices.
Years of experience with GOH
Experience with designing and implementing European material handling systems
We do an analytical and mathematical appraisal of your distribution center to ensure you get the best system
Contact abco automation today and let's see how we can give you the best Garment on Hanger Distribution system!