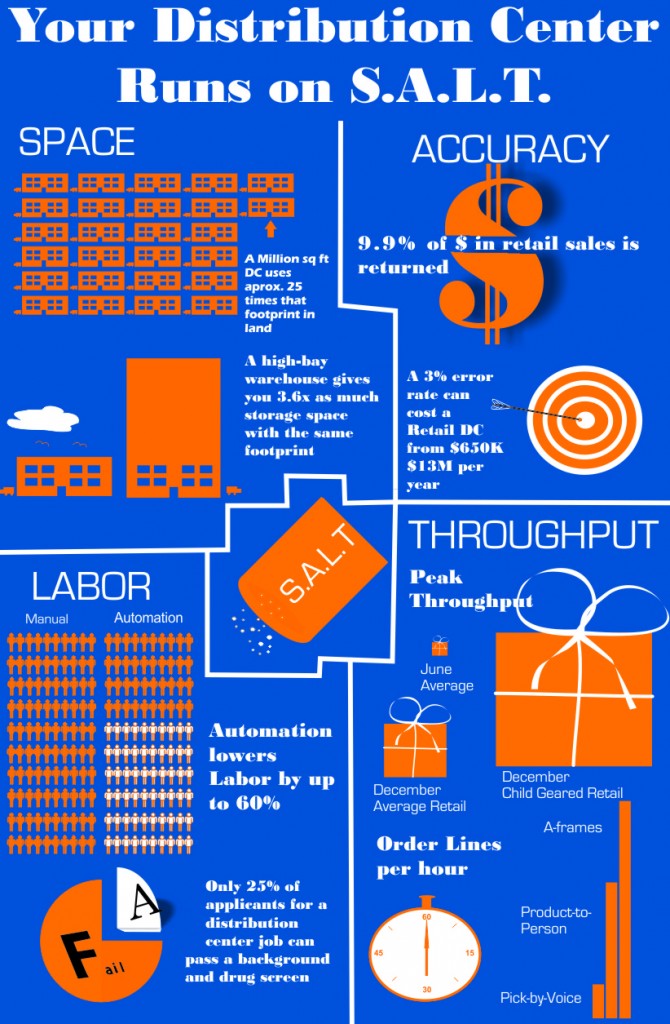 The acronym, S.A.L.T., is a great jumping off point for looking at material handling design.  It stands for Space, Accuracy, Labor and Throughput.  It is also a good way to analyze your distribution center for improvements that might be made by transitioning to an automated material handling design from a manual one.
Let's break down the infographic and look at the acronym of SALT.
Space.  The first component is the space, or footprint, that your distribution center uses.  With a one million square foot DC you actually need 50-60 acres of land when all is said and done.  However, the great thing about land cost is that you only pay for the dirt, not the air above it.  Therefore if you can go up and use a high-bay warehouse, which tops out at around 110 feet, you have around 3.6x as much storage space as a traditional 30 foot clear distribution center.
Accuracy:  Accuracy is very important in a distribution center.  Especially with the cost of returns and shipping, not to mention the cost of lost goods.  Nearly 10% of all purchases in retail sales are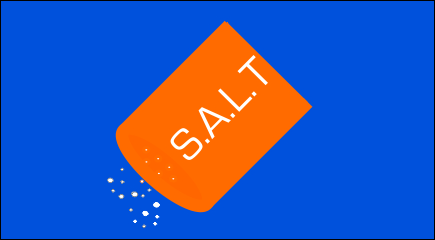 returned.  Much of that has to do with errors from the distribution center.
A 97% accuracy rate though it sounds great means that 3% of your shipments are wrong.  On a low end that can mean $650,000 in errors assuming a 30 million orders a year and $.30 for shipping and return.  That is also assuming no products were lost or damaged.  The high end could be $13 million (or higher), which assumes higher shipping cost, higher cost of return and product that would be lost or damaged.
Labor:  Labor is one of the most expensive parts of a distribution center.  However, smart material handling design can lower the cost of labor.  For instance, an automated material handling design can take a distribution center that needs 100 people and reduce labor by 60% by using technology.  Technologies such as product-to-person (also known as goods-to-man) allow for selectors to fulfill orders quicker and more efficiently than an army of workers fanning through an enormous DC.
In many interviews we have had with distribution center executives they say that even with people who want to work in the distribution center, only 25% can pass a drug screen and background check.  Therefore with less reliance on labor you can cherry-pick the best associates for your operation.
Throughput:  Throughput is the distribution center's reason for being.  The peaks and valleys in distribution can be extreme, which is why you need a deep analysis of the numbers in your distribution center.  Over the course of a year a child based retailer (IE a toy store) can have a throughput of X in July and 10 times that amount of throughput in December.
While obviously you can't use every technology for every product, it is interesting to look at how different technologies can increase throughput dramatically.  An A-frame for instance can perform up to 1600 picks per hour and Pick-by-Voice can average around 250.
Hopefully this article demonstrated the effect that the acronym S.A.L.T has on material handling design.  If you need help with your material handling design contact abco automation.