How to Pick Fast Movers "AA" and "A" in Your DC
These SKUs represent only 20% of your product base, but generate 80% of your volume. They are the trendy items that are moving fast and furious through the warehouse. You must give considerable care to make sure the slower-moving products, "B" or "C" movers, are excluded from this set of products. You have to "pull the weeds" in order to make sure that you are picking fast movers and not medium movers that are disguised.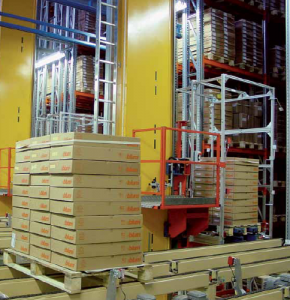 That is where abco automation and our slogan "We Do the Math" com into play.  We perform a through analysis of your distribution center and help you find where the custoff points are.  Where "A" movers becomes "AA" or "B".
We can also help you apply the correct technology to your fast movers. Any technology used must focus on automatically picking orders and/or streamlining replenishment of the pick locations since replenishment demand for these products is so high.
Possible technologies (depending on size and industry) might be automated picking systems (APS), pick-to-light or pick-to-voice in concentrated pick zones, zone-bypass conveyor systems and automatically-replenished pick locations.
These products don't spend that long in the warehouse compared to the other products and need to be in the most efficient areas.
Contact abco automation and let us design you a systems for picking fast movers.